HOW FUN IS THIS!!! Ikea now has pink and turquoise in their popular EXPEDIT model. I absolutely love them and wanted to spread the word. They also have matching EXPEDIT shelf inserts. This is a great playroom storage idea and cheap too.
* I was in no way paid for this blog entry. I just really love these shelves!
I would love to see how you guys decorated your kid's playrooms. Send pics to [email protected]
Back in the day when I had just two kiddos and a 700 square foot house, my home was super clean.  To the point of being annoying to others, I am sure : )  I was very much 'Type A' and that definitely came through in my housekeeping.  I cleaned my entire house once a week. Top to bottom.  Rain or shine.
Fast forward to present time.  We've added another little one to the mix, and have relocated to a home more than twice the size of our cozy, little, cottage.  And while I am still 'Type A' in many ways, the size of our house and the number of small people have won out over my love of a clean home.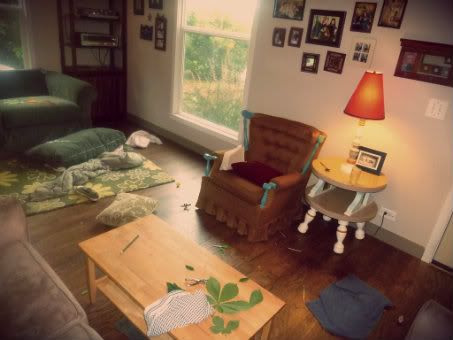 I am an all or nothing kinda gal.  If I can't enjoy a perfectly clean home then why even bother.  Plus it's going to be dirty again in 7 seconds anyway.  So these days I really only clean something when I can't stand it anymore.  Or when company comes over.  And believe me, I avoid that at all cost : )  So yes, this means my toilets get scrubbed when mold starts to grow.  My mirrors get cleaned when I can no longer see through the hundreds of tiny fingerprints.  And my floor gets mopped when my feet begin sticking to the linoleum as I pass through the kitchen. Surely there has to be a middle ground. But truly, most day it's all I can do to get 3 meals on the table, and stay on top of the laundry and the dishes.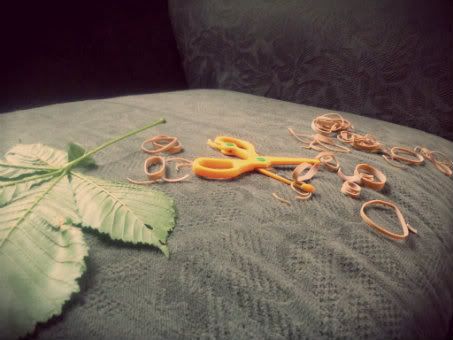 I read a quote from a fellow blogger, months ago that resonated in my heart.  The quote was this, "I am not a full time housekeeper with a part time job as a babysitter."  Such a simple statement, but it so succinctly puts her priorities into place.  That is how I want to view my job as a mom.  But I can tell you that there many times when I value getting the laundry done over spending time with my children.
And the truth of the matter is there are things that just have to get done.  Our kids have to eat.  Dirty clothes won't wash themselves.  And mold in the toilet is just disgusting : ) So how does one reconcile the deficit between these two needs? Our children need to be our top priority.  Absolutely.  There's no disputing that. But the other part of our jobs as 'mom' is keeping our home.  So how does one do both well?
So fellow mommas, I'm asking you.  What do you do?  Are you super organized in your housekeeping?  Do you have a schedule?  Do you try to tackle one room a day?  Do you have a certain day you clean?  Or maybe you're in my camp and your bathrooms have turned into a science experiment…please, please tell me I'm not alone!  Let's talk. Maybe we can help each other out!
By Ashley Devonish | Category: Creating a Home, Organize Me! | Posted Monday, July 9, 2012
Our oldest two children (Hunter age 8 and Ashlyn age 6) have shared a bedroom for about a year.  It began when our in-laws brought us the bunk bed my husband used as a child and set it up in Hunter's room.  It didn't take long before Ashlyn was joining Hunter each night and pretty soon they both discovered they preferred to room together.  After several months of this routine we put Quinten into Ashlyn's bright pink and orange room.  This hodge podge arrangement didn't feel ideal.  Ashlyn's clothes and toys were still in her room where Quinten slept and Quinten's clothes and toys were in Hunter's room where Ashlyn and Hunter slept.  It was time for a change.  We decided to move both Hunter and Ashlyn into Ashlyn's room as it was the larger of the two and let Quinten have Hunter's room.  However, Ashlyn's room was just a tad to girly to work for Hunter. . . time for gathering ideas.
Before: Orange, Pink and a whole lot of girl!
The goal was to create a shared room for Hunter and Ashlyn that would fit them both in design and space.  I began by searching Pinterest for ideas on shared rooms.  I got some good ideas there, however as you might imagine, most shared rooms are for children of the same gender.  I needed to figure out not only how to arrange furniture, but find a color scheme that would work well for a boy and a very "girly" girl.
It was a fun challenge and I am really thrilled with how it turned out, let me show you what I did:
The process:
-We started with Dove Tail Grey from Sherwin Williams (I can't overstate how fantastic the customer service was at our Sherwin Williams store).  Covering up a bright pink and orange color with grey was a huge change.  I really felt that the grey would look great but I was so relieved when it it was up on the wall and looked as good as I had hoped.  This grey has beautiful depth and was neutral in the perfect way—a great backdrop for bright colors to shine in other areas of the room.
-Next we decided to maximize the room's space by adding two loft beds.  I searched our local Craig's List for used loft beds and was thrilled to discover a local craftsman making custom beds with a price point that was right in the ballpark of the used frames I was finding.  Choosing loft beds allowed us room for each child to have a desk under their bed.  One desk was found at a thrift store and the other (which amazingly matches the first, isn't the Lord nice like that?) was found on Craig's List.  The funky orange desk chair also came from a thrift store.
-Because I was looking for a color scheme that was both gender neutral and flexible, I opted for primary colors.  With this in mind, I searched for their bedding on eBay using the keyword "vintage" in my search.  I discovered a great Raggedy Ann spread for Ashlyn and Star Wars comforter for Hunter.  Both had strong primary colors with a white/light background so I felt they worked well together while allowing them each to have their own personal tastes represented.  When Ashlyn's spread arrived I realized that an edging had simply been sewn around three sides of a flat sheet turning it into a bedspread.  It was a simple way to create a bedspread and something I will keep in mind for the future
!  Because it was so thin, I decided to turn Ashlyn's spread into a duvet cover by sewing another sheet to it along three sides, adding some button holes to allow closure to the forth side and stuffing her comforter inside.
-The primary colors in the room were reinforced with the toy storage bin that I refinished using Chalk Paint from Stylish Patina and tissue paper balls hung from under their beds.  I also used some of my left over Chalk Paint for the frame of a corkboard as well as a chalk and dry erase board (which used to be an art easel before we took it apart ,cut off the legs and mounted them on the wall).
-Because floor space was limited, we moved their dresser inside the closet and removed the closet doors replacing them with a curtain and cable rod purchased from IKEA.
-The last fun embellishment for the room was a growth ruler from a local mom run company called Keepsake Rulers and the accompanying vinyl wall lettering was purchased from a family run business called All American Sign in Coeur d'Alene, Idaho.  Previously my children each had their own growth chart.  I was able to transfer their heights and dates onto this one location and it is fun for the kids to see how their growth compares at different ages.  I also love that we could take it with us should we ever move (unlike a door frame which is what we used when I was growing up).
The final result was a room that is both functional yet fun, practical yet playful.
If any of you have kids that share a room I would love to hear what you have done with the space to make it work well for your situation! 
I used to be scared of projects like the one I recently completed.  I never imagined I would be sharing a post about a piece of furniture that I  restored.  People that do things like that have blogs with names like "Crafty Mama" or "Furniture Chick"  (neither of which oddly enough are active websites!)  But here I am giddy with excitement to show you my "trash into treasure' project which was all made possible by a product I had never heard of before until my good friend Selina over at Creative Juices for Decor told me about it.  The product is Chalk Paint.  At this point you likely fall into one of two categories.  Either you are nodding your head in agreement saying "yes isn't that stuff wonderful?" or you are assuming that I am talking about Chalk Board paint (also a fun product but totally unrelated).
"What is Chalk Paint?" you may ask.
Only all your furniture dreams realized in the form of a can of paint.
Only the most simple solution to restoration (the furniture kind) that I have found.
Only amazing.  No sanding. No priming.  A-mazing!
Ready to see it in action?
-I found a three drawer dresser on Craig's List for $10. It was nice and solid and had good lines. I had planned to use it as dresser. However, 2 of the 3 drawers were sticky and didn't slide well.  I decided I could turn two of the drawers into shelves.  I offered $5 and they agreed.  As it was lifted into the back of my car, the 1 drawer that did work toppled out and broke on the road.  Bummer.  Not figuring that they would want to buy it back from me, I decided to see what I could make it into.  I decided to remove all 3 of the drawers and install shelves, transforming it into a toy storage unit.
-Because the initial piece was two toned and because I was going to allow some of the under color to show through when I distressed it, I decided to replicate the two tones with my paint choices.  I used the "Arles" (yellow color) Chalk Paint on the top "changing table" area and also on the inside.  For the rest I used "Emperor Silk" (red color).
-The only "prep" work I had to do was wipe down the wood with a damp cloth to remove any dust and lose particles.  After that, paint!   The first coat of paint went on fairly quickly and I was surprised by how fast it dried.  But the second coat was even faster.  Because I planned to distress the furniture and allow the original wood to show through, I didn't have to worry about putting the paint on thick enough to completely hide the original colors.  I was amazed at how much could be covered with so little paint!
-Once both coats of paint were dry, I went over the entire piece of furniture with sand paper lightly sanding a smooth surface and spending more time on the edges, corners and any areas that I wanted to appear distressed and aged.  This was a fun step.
-Next I covered the inside back by painting Mod Podge over 12×12 sheets of coordinating scrapbook paper cut to size using a paper cutter.
-My husband cut to size 3 thin boards purchased at Home Depot and glued them on top of the pre-existing drawer sections (after removing the small wooden glide rail which was no longer needed).
-To finish the Chalk Paint, I covered the entire painted surface with one thin coat of Johnson's Wax (which I purchased at Home Depot) using an old t-shirt.  This provides a protective seal on the wood and brightens up the paint which, after sanding it, had been dulled.
-Using some left over scrapbook paper from the Mod Podge part of the project, I created coordinating labels for the plastic storage bins.  I choose to have the most baby friendly items toward the bottom and coordinated each row of labels to match, in an attempt to make it easy for the kids to put each drawer back in the correct section.
The end result turned out better than I could have expected.  It is bright and colorful, highly functional and because of the distressed nature, durable to child abuse.
Being able to look for furniture based on how solid it is and the beauty of its lines, rather than its color, opens up a whole new world of possibilities.  I had been initially hesitant when I first saw that Chalk Paint was sold by the quart rather than the gallon. I had only ever purchased paint for the purpose of re-doing an entire room.  However, after finishing this project, I can now see that a small quart of paint would be more than enough for most furniture projects.  There are even small 4 oz. "sample" Chalk Paint sizes available which can be used for smaller projects such as picture frames, chairs or a small bench or stool. I also LOVED that the VOC s are so low.  I couldn't detect any paint fumes which was a huge plus.  I am already eyeing my next project!  If you have some additional questions about chalk paint, you might find your answers on this FAQ page.
How about you? Would you like to try out Chalk Paint on your own project?
Of course you can simply go to the Stylish Patina and buy some, but I would love for you to win some!  Kelly over at Stylish Patina has graciously offered to give one lucky Mom 4 Life reader a $45 gift certificate to her store!  I might suggest spending it on a quart of Annie Sloan chalk paint ($38) and perhaps a set of paint brushes ($10) or "sample" Chalk Paint for accent colors or a small side project ($13.50).  To enter simply fill out the rafflecopter form below (you must be on the blog to view the entry form). The giveaway can be entered until Monday June 18th (MST).  There are several ways to enter, good luck!
Also, if you like to be inspired, Kelly posts some fantastic stuff over on her Stylish Patina facebook page, go take a look!
By Ashley Devonish | Category: Creating a Home, Organize Me! | Posted Monday, May 7, 2012
Children's art work is one of those things that most families with young children have plenty of.  it is finding creative ways to display, preserve and not get buried under it that can be a challenge. A few years ago I created an art wall in our home to display the projects that my kids would bring home from school.  This art wall has worked perfectly.  I love how easy it is to use, the way it proudly displays their work and the way it looks in our home.  The downside is that our children have now outgrown it.  Meaning, we have more art work than room to display it.  Plus our two youngest kids are soon going to be of an age to start creating their own artwork so this situation is not going to go away anytime soon (thankfully).  So it was time to come up with a second art wall option.  I wanted something that would allow me to change out the art easily and as frequently as I wanted.  I wanted something that would flow well with the look of our home and something that was inexpensive.
Here is what I came up with:
-Take a curtain rod and mount it to the wall.
-Use curtain clips on the rod to suspend the artwork.
The beauty of this plan was that not only was it easy to do but I was able to repurpose an unused curtain rod and clips from my garage!
Before:
After:
I know there are a pletora of wonderful ideas for storing kid's artwork.  If you have a favorite idea I would love for you to share in the comments or on our facebook page!  if you liked this idea, consider pinning this post on Pinterest!
For some more ideas:
7 steps to organizing your children's art
4 steps to creating an art wall in your home
How we remember and repurpose children's artwork from Simple Organic