So for most of us who ate entirely too much during the holidays, getting in shape in 2014 is definitely top priority. So in preparation for my return to consistent work outs, I am putting together some of my favorites together on a workout playlist. I love to listen to music during my work outs. To be honest, I am happy to return to working out, I feel like since my birthday in early November, it's just been impossible to stay consistent. Let's hope the music helps because I know the workout is going to hurt…
MY TOP 10 WORKOUT SONGS
10. "Let Me Clear My Throat" – Public Domain
9. "Put On" – Young Jeezy and Kanye West
8. "Don't Stop the Music" – Rihanna
7."Touch My Body" (Remix) – Mariah Carey
6. "Pretty Young thing, p.y.t" – Michael Jackson
5. "Fergalicious" – Fergie
4. "Party Like a Rock Star" – Shop Boyz
3. "Come to Me" (feat. Nicole Scherzinger) – Diddy
2."Rhythm Is Gonna Get You" – Gloria Estefan
1. "Upgrade U" – Beyonce
Share with me some of your favorite songs. What gets you motivated?
By Ashley Devonish | Category: Healthy Living, Products, Surprize Me! | Posted Friday, September 13, 2013
I think this is a great article that was brought to my attention by my mother. She is a massage therapist and knows the benefits of taking care of our bodies even at a very young age. Great read, very informative. Thanks Mom!
Educate Your Clients: The Advantages of Baby Wearing
By Claudia Anrig, DC
Since the beginning of the "Back to Sleep" program, which recommended that babies be placed on their backs in order to reduce the risk of SIDS, babies spend more time on their backs than ever.
When we add in the time spent in baby carriers, it's no wonder there has been a significant increase in the number of babies with "flat head syndrome."1 However, the bigger concern here is not cosmetic, but instead the issue of cranial distortions potentially resulting in compromised neurological function.1If you have a clients thinking about or just beginning to add to their families, you can encourage them to educate themselves and look into the reasons why infants should spend less of their awake time on their backs and the alternative ways available to accommodate improved baby positioning.
Why to Encourage Baby Wearing
The benefits of baby wearing are vast. For instance, research has shown that babies who are carried cry 43 percent less than those who aren't and 54 percent less during the evening hours, when colicky babies may be the most fussy.2
Babies that are worn while awake also spend much more time in a quiet and alert state, which is ideal for learning. Since they feel safe and secure, they are more open to outside stimuli, which is the world from their carrier's point of view, not the limited view available from their crib, car seat or stroller. Since they are closer to people and can study facial expressions, carried infants also are more socialized and will typically learn to speak sooner and be more familiar with body language, becoming independent at an earlier age.3
Carried or worn infants are also calmer because all their needs are being met, both their primal and survival needs. They can see, hear, smell, touch and even taste their primary caregiver. According to Dr. William Sears, the pediatrician who coined the phrase, "attachment parenting," being in this position for most of an infant's waking hours provides a motion that has shown to be beneficial for neural development, as well as gastrointestinal and respiratory health. The parental rhythms (walking, heartbeat, etc.) have a balancing and soothing effect on the infant.3 Due to the decreased amount of time spent on their backs, the risk of plagiocephaly or the above-mentioned "flat head syndrome" also is significantly reduced.4
Other Benefits to Baby Wearing
In many cultures, if the baby is awake, then it is being worn or carried by mom, dad or another caregiver. Anthropologists and psychologists studying the behavior of mother and child have determined that their interaction actually shapes behavior. When the baby seems in distress, mother offers a soothing touch or word. When the baby seems hungry, she offers her breast. When the baby focuses on her, she focuses back while smiling or talking in a loving tone. For each action of the baby, the mother responds. According to an article published by the La Leche League, "these sensitive, personality-shaping interactions happen most readily when babies are in the arms of their parents."5
Baby wearing is an opportunity to provide closeness, even when the parent cannot be providing the baby with their undivided attention. This also allows for multitasking: cooking, cleaning, running after a toddler, grocery shopping or performing any other typical parental task, while providing the infant continued security.5
Baby wearing also has physiological benefits for the mother, including increased oxytocin levels, leading to a more intimate maternal bond, easier breast-feeding and improved care, potentially lowering the incidence of postpartum depression.6
Additionally, since the hormone relaxin may be present up to nine months following delivery, this may be healthier for the mother's spine by preventing increased repetitive movements such as carrying her baby and less lifting of car seats, which may lead to postural or spinal misalignments.1
In fact, car seats should only be used while the infant is in the car. The American Academy of Pediatrics recommends that infants spend the least amount possible in seating that maintains a supine or reclined position, including car seats, unless they are actually a passenger in a vehicle. It is best for infants to be upright while being held, carried or worn.7
Some parents have expressed concern that a baby who is constantly held or worn will become fussy and demanding of attention, but studies have actually shown the opposite is true. Apparently, babies who are worn tend to be more satisfied and secure.5
How to Wear a Baby
With the increase in information available, baby wearing has become more popular, so a wide variety of slings and carriers is now available. Slings with rings can be used for newborns, older babies and toddlers. The sling is typically adjusted by running the tail fabric through the rings and then tightening or loosening it until the wearer feels comfortable. With a sling, the baby can be positioned on the parent's front, side or back. Pouch carriers are similar to slings, but offer fewer options for adjustment and generally hold the baby in the front or back only.5 Another option is long, tied wraps, which are 12 feet long and made of woven or knit fabric. The wearer wraps and ties the fabric around her and the baby to keep the infant secure.5
More common, but not always the best, is the backpack or front carrier. Since the design is more rigid in structure, it doesn't always offer options for infant positioning, and they are not flexible from one wearer to the next. Should parents choose to go this route, tell them it would be wise to purchase two so the straps and clips don't have to be adjusted when being used by more than one wearer.5
Recommendations for Choosing a Carrier
When considering the purchase of a baby carrier, tell parents to be sure to think about the following:1
Can the carrier be worn on the front, side and back?
Can the baby be positioned forward-facing, chest-facing, upright, supine and with either of their legs straightened or bent comfortably?
Can the baby be transferred from the carrier to their crib without waking?
Can a sleeping infant be transferred from one wearer to another without disturbing their sleep?
Can the baby breast-feed discreetly and comfortably while in the carrier?
Is the carrier large enough to be used for several months, the first year of life or into the toddler years?
Is the carrier washable? If so, how easy / difficult is it to wash?
Does the carrier evenly distribute the infant's weight for the comfort of the wearer, or will it cause stress or postural compensations to the wearer's spine?
Can the infant be shifted or repositioned easily, or will the wearer require assistance?
When using the carrier, are the wearer's hands free or must they support the baby with one hand?
Source: International Chiropractic Pediatric Association, 2008.
References
"Baby Wearing: Suggestions for Carrying Your Baby." International Chiropractic Pediatric Association, Oct. 23, 2008.
Hunziker UA, Barr RG. Increased carrying reduces infant crying: a randomized controlled trial. Pediatrics, 1986;77:641-8.
"Benefits of Babywearing." Available at AskDrSears.com.
Persing J, et al. American Academy of Pediatrics Committee on Practice and Ambulatory Medicine, Section on Plastic Surgery and Section on Neurological Surgery. Prevention and management of positional skull deformities in infants. Pediatrics, July 2003;112(1):199-202.
La Leche League. "The Benefits of Baby Wearing." New Beginnings, Nov-Dec 2004;21(6):204-208.
Morris D. What Comforts a Baby? In: Babywatching. New York: Crown Publishers, Inc., 1992.
Klaus M, Kennell J, Klause P. Bonding. Addison Wesley Publishing Company, 1995.
We have several baby slings available at Mom 4 Life. I encourage you to visit us and see which one is right for you.
Although I am not a huge fan of cold weather, I do love holiday foods. Below are two recipes I found on Pinterest that made me super excited for fall! and if you didn't already know…Starbucks has their pumpkin spice lattes available. Now I am officially ready.

 Peek a Boo Pumpkin Pound Cake
Ingredients:
For the pound cake
1 (14-ounce) box pumpkin bread mix
1 (16-ounce) box pound cake mix
Orange food coloring
For the icing
8 tablespoons (1 stick) butter
3-1/2 cups powdered sugar
3 tablespoons evaporated milk
1 teaspoon vanilla
1/2 cup chopped pecans (optional)
Directions:
1
Prepare pumpkin bread
Mix up pumpkin bread ingredients according to the directions on the box. Add orange food coloring to make it more "pumpkin-y" looking (less brown).
2
Bake and cut
Bake in a 9 x 5-inch loaf pan according to directions. Remove from oven before completely done, about 8-10 minutes less than instructed. Let cool, remove from pan and refrigerate for up to four hours. Cut cold pumpkin bread into large slices. Cut pumpkin shapes from slices.
Align them down the center of a lightly greased and floured 9 x 5-inch loaf pan.
3
Make pound cake
Mix up your pound cake batter according to the directions on the box. Pour over your pumpkin bread cutouts in the pan, making sure to cover the tops of the pumpkins. You may have more pound cake batter than you need. Try not to overfill the pan. Bake according to the directions on the box. Let cool when done.
4
Prepare icing
Meanwhile, prepare the brown butter pecan icing.
Put powdered sugar in a mixing bowl. In a saucepan, melt butter and boil, stirring until it starts to brown and form dark flecks on the sides and bottom.
Remove from heat. Pour the melted brown butter and flecks over the powdered sugar. Add the evaporated milk and vanilla. Stir until combined and creamy. Add more powdered sugar if it appears too runny or more evaporated milk if it seems too stiff.
5
Ice cake
Remove baked and cooled pound cake from pan and top with brown butter icing. Add chopped pecans, if desired.
Cut into slices and delight your guests with the pumpkin-shaped surprise that peeks out from inside!
Sweet Potato Waffles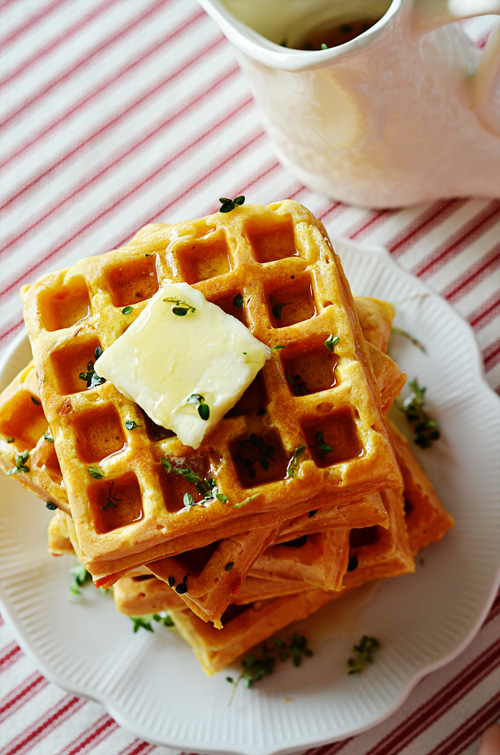 These would be great for any meal, breakfast or dinner!
Sweet potato waffles
(adapted from Alton Brown's recipe)
1 c. sweet potato puree
2 c. flour
1 T baking powder
1/2 tsp. salt
6 egg whites, room temp.
1 1/2 c. milk
1/4 c. brown sugar
1/4 c. butter, melted
1/2 T. orange zest
Whisk together flour, baking powder, and salt in one bowl.
In another bowl, mix the sweet potatoes, milk, brown sugar, butter, and orange zest.  Make a well in the center of the flour mixture and add the wet ingredients until combined.  Beat the egg whites until stiff peaks form. Add the egg whites into the sweet potato mixture a 1/3 at a time. It will be thick! Set up your waffle maker and go!
What is your go to fall recipe? Let me know if any of you try these recipes.
By Ashley Devonish | Category: Healthy Living | Posted Monday, September 17, 2012
I am really pleased to report that I have made good on several of my goals for 2012, one of which was to help our family get into the habit of (drum roll please) . . .consuming fermented cod liver oil.
Yes I know, it sounds disgusting and no I did not divulge my evil plan to my family when we discussed our goals on New Year's Eve.
Maybe you already know all about Fermented Cod Liver Oil (if so feel free to either skip this post or identify yourself in the comments so that if we have questions we can glean from your wisdom).  Perhaps you are like me and have been running smack into blog posts all over the place which talk about the amazing goodness of this stinky fish oil.  Perhaps you have decided to simply avoid this one little super healthy supplement (as I had).  Or perhaps you are reading this and thinking "what on God's green Earth would cause someone in their right mind to willingly consume that?!  Well my friend, today is your day.  I'll let you live vicariously though my family as we ordered, sampled and decided on our fermented cod liver oil (FCLO) of choice.
First I'll touch on WHY we would choose to consume not only the oil from a fish but oil from a fish that has been fermenting.
Why in the world:
-Fermented Cod Liver oil is rich not only in Omega 3 but also is also naturally rich in fat solubile vitamin A and D.  Unless you have been living under a rock, you no doubt have been beat over the head with the fact that Americans don't get enough Vitamin D (read more about Vitamin D here).  Just how much Vitamin A and D is present in FCLO is up for discussion.  While some sources claim that "one teaspoon of regular cod liver oil contains 5,000 IU Vitamin D" and that "only a half teaspoon of fermented cod liver oil you also get 5,000 IU."  The Green Pasture company (which is currently the only company that makes cod liver oil using the traditional method of fermentation–more on that below) addresses this question here by essentially saying that a product that is not manufactured in a lab does not yield the same results every time.  FCLO is wonderfully healthy for you but the exact amount of Vitamin A and D cannot be determined with scientific numbers in the way that we would like.
-Because of the preservation of the FCLO oils though the slow lacto-fermentation process (without heat), naturally occurring vitamins and left undamaged. As stated by Holistic Kid, "This is evident by the deep rich color of FCLO as opposed to the pale yellow of conventional cod liver oil. This means that fermented cod liver oil contains the proper ratio of the essential fat soluble vitamins A and D – two nutrients that cannot be obtained through vegetable sources. Furthermore, because FCLO is a fermented food, the body can assimilate its nutrients with more ease and efficacy."
How is it made?
Weston A. Price Foundation President Sally Fallon Morell spoke about the differences between regular high-vitamin cod liver oil and fermented cod liver oil by saying, "Throughout history, cod liver oil was traditionally processed via fermentation, and not processed with heat. She said that the fishermen would throw the livers into a barrel, add a little sea water, and then leave it to ferment. Today, almost all cod liver oil is processed by heating it. Except for Green Pastures new fermented cod liver oil, which is made the traditional way. (Okay, maybe they don't actually use barrels and sea water but you get the idea.)"  Did you know that it takes 6 months to a year to make traditional fermented cod liver oil?  If you want to read more about why FERMENTED cod liver oil is better for you, here is some good additional info.
How does it taste?
To be completely honest I expected BAD things from my first FCLO encounter.  I mean seriously, we are talking about fermented fish liver, gross!  However, personally, my expectations were worse than my actual experience.  Don't get me wrong, I don't like the taste but I don't hate it either.  I had built it up to be SO bad that once I tasted it I said, "oh, that's not so bad."  It was the same for my husband.  In fact, I think his exact words were, "Oh, I could have that three times a day if needed."  Now I can force myself to do something that I know is good for me but kids can often be a harder sell so I was very interested to see what they would think about this new elixir.  I was pleasantly surprised here as well.  By no means did they like it but they will tolerate it.  In the beginning I rewarded them with a few chocolate chips but over time they grew used to it and now it is simply a part of their evening routine.  In addition to the standard non flavored option, Green Pasture does offer a variety of FCLO favors including orange, cinnamon, mint and chocolate.  While they don't negate all of the fishy flavor, we feel they can do a pretty good job at distracting you from it long enough to swallow and take a drink
. Each person in our family has developed a personal perference.  Would you like to see the reaction of Hunter (who was 8 at the time) and Quinten (2 at the time) when they tried the non flavored fermented cod liver oil for the first time?   I caught their response on video.  In the video you will see Quinten give a little cough when he tries the non flavored version.  However, since that filming, we discovered that the chocolate cream is Quinten's FCLO of choice.  He is the only one that prefers this flavor and the the gel consistency (there are some FCLO options that include a butter blend and are more of a gel/cream like consistency).  Quinten will literally come running when I ask if he wants some FCLO (and he would take seconds if I offered it).  My friend Kira reports the same phenomenon with her 3 year old son.
I think the bottom line here is that this is one product that you do not buy for the taste, but instead for the benefits.  However, if you are lucky, you may find that it isn't as bad as you expect and some in your family may even like it!  Of course there is always the option to take it in capsule form (slightly more expensive but worth it in my opinion if it is the only way you will consume it).
This YouTube video about our "opposite game" also shows Ashlyn taking her FCLO.
Extra info:
How much should you take?
Holistic Kid adresses this question well in this post.
How to get kids to take it:
Holistic Kid offers advice in this area.
Green Pastures talks about it on their FAQ page.
The next step:
Are you ready to give fermented cod liver oil a try?  Green Pasture has generously agreed to give away 3 gift certificates for $44 to their website!  You have several ways to enter via the rafflecopter form below, good luck!
a Rafflecopter giveaway

The credits: Thank you to Katie from Kitchen Stewardship for writing the blog post about FCLO that finally pushed me over the edge to try it.  Thank you to Green Pasture for being willing to do things the hard way and therefore create a better product that excels in quality and nutrition.  Thank you also for providing my family with samples of your product for the purpose of this review.
All feedback provided is honest and true.  Since receiving the samples, I have placed an order from Green Pasture to replenish my stock of FCLO.
As I mentioned previously, I would not typically disclose products that we decide not to offer on Mom 4 Life.  However, I have decided to break the silence and make an exception for a few special companies.  The first was Savvy Naturals which I spoke of here.  The second was Milliwik games.
Today I want to introduce you to MadeOn Skin Care Products.
MadeOn is owned by Renee Harris a mom of–get this–EIGHT kids ages 1, 3, 6, 8, 10, 10 (twins), 12 and 14 (isn't that amazingly awesome)?!
Renee's products were born in much the same way that many products invented by moms are–out of a need.  Renee was in the kitchen a lot (surprise, surprise) and her hands were suffering.  She says:
I had the worst pain from the tips of my fingers that were often covered in Band-aids from the cuts and splits from my daily activities and extremely dry skin. My hands were my most important tools, but they caused me intense suffering… until the lotion bar.
Renee discovered that three simple ingredients (coconut oil, beeswax and Shea butter) melted and mixed together to form "hard" lotion would change everything.  She discovered that:
Not only did that first lotion bar heal up my skin within days, but we tried it with my son's seasonal eczema, and I was ecstatic that his pain also ended with the lotion bar.
After this, her discovery took action.
Something that was so easy to make turned into a family business after my older boys and I took it to the farmer's market for testing. I received great feedback from customers at the market, as well as several online groups who agreed to test it and fill out surveys.
Renee knows her stuff.  Not only does she create some amazingly pure skin care products, but she goes above and beyond in extending a wealth of information on her website, blog, YouTube videos and newsletters.  The products she makes are simple, so simple in fact that they can be done in your own kitchen and I love how she has taken the initiative to provide easy DIY kits for those who enjoy making things themselves.  And for those of us who just want a quality product made from pure, safe ingredients, can simply order Renee's finished products and enjoy the beautifully wrapped, finished product that comes right to your doorstep.
Around Christmas time a friend and I got together to mix up a large batch of homemade hard lotion bars for gifts using the three ingredients mentioned above.  It was fun, but it certainly gave me a new sense of respect for what Renee does.  There is a science to the measuring.  At fist we used too much Shea butter and it was too sticky. Then it was re-melted and more coconut oil and beeswax was added and even though it wasn't sticky, it was not as soft as I would like.  Then I remembered I wanted to add some essential oil to the bars so I remelted it AGAIN and added some jasmine oil.  In the end they turned out nice but I did include a little disclaimer on the gift tag mentioning how they were a little harder than they should be and might be best if used on feet:).  In the end, I think it would have been much easier had we opted for the DIY kit that Renee offers. I LOVE  her statement here:
I KNOW dry skin and the pain it brings. Because I've enjoyed the interaction that I get from my customers, I've created DIY videos for the lotion, as well as other products that we've developed based on customer request and our own family's needs. Whether you purchase here, or create your own, give it a try and I believe you'll be very happy with the results.  Let me know how it works for you!
Isn't that gracious and kind?  It is true too, this stuff does work.  As a delightful surprise, one friend who was gifted my homemade lotion bars reported back to me that her husband (whose hands suffer from Eczema) was loving my lotion bar and was seeing great results with it as compared to his steroid cream.  Later her dog found it and apparently liked it too so let this be a warning to keep your lotion bars away from your pets
!
I have tried a few of Renee's products including her:
-Au Chocolat lotion bars These use cocoa butter instead of Shea butter and offer a lovely chocolate aroma that is simply delightful!  I keep a small pocket size bar in my office and in my purse and a full size bar in my bathroom.
-Beesilk Junior lotion bars These are made for more delicate skin that doesn't need the intensity of hardness and protection that the Beesilk hard lotion bar provides (perfect for babies, young children, or those dealing with extreme skin issues). Beesilk Jr feels more like a lanolin, but with easy application.)  Click here to see Renee's YouTube video of her Beesilk Junior lotion bar.
-Coffee soap which cleverly helps remove kitchen odor such as garlic or onions from your hands!  It is made from Olive Oil, Coconut Oil, Palm Oil, Brewed Coffee, Coffee Grounds, Goat Milk, sodium hydroxide (lye).  Click here to see Renee's YouTube video of her coffee soap.
By now I have a feeling you are ready to get your hands on some of Renne's products!  Well I have good news for you, Renee has generously offered to give away TWO $20 gift certificates to her website AND is willing to offer all Mom 4 Life blog readers a special 10% discount (simply use the code "mom4life" on her website).  The discount is good until April 30th.
To enter the giveaway: simply fill out the Rafflecopter form below (you need to be on the blog to see and use the form).  There are several ways you can enter so have fun.  We will choose our winner next Monday April 16th.