So for most of us who ate entirely too much during the holidays, getting in shape in 2014 is definitely top priority. So in preparation for my return to consistent work outs, I am putting together some of my favorites together on a workout playlist. I love to listen to music during my work outs. To be honest, I am happy to return to working out, I feel like since my birthday in early November, it's just been impossible to stay consistent. Let's hope the music helps because I know the workout is going to hurt…
MY TOP 10 WORKOUT SONGS
10. "Let Me Clear My Throat" – Public Domain
9. "Put On" – Young Jeezy and Kanye West
8. "Don't Stop the Music" – Rihanna
7."Touch My Body" (Remix) – Mariah Carey
6. "Pretty Young thing, p.y.t" – Michael Jackson
5. "Fergalicious" – Fergie
4. "Party Like a Rock Star" – Shop Boyz
3. "Come to Me" (feat. Nicole Scherzinger) – Diddy
2."Rhythm Is Gonna Get You" – Gloria Estefan
1. "Upgrade U" – Beyonce
Share with me some of your favorite songs. What gets you motivated?
Last year I shared with you when I finally crossed something off of my to-do list that had been there for more than 3 years—making a homeopathic first aid kit.  I would like to share my kit with you once again as it has been updated with a few new items.
The goal: to purchase items for a homeopathic first aid kit
The challenge: not knowing what items should go in said kit
Sometimes all we need is a little inspirational encouragement to meet our goals.  For me, it was a blog post from Passionate Homemakeing that inspired me to finish this task.  In her blog post, Lindsay mentioned a website where complete homeopathic kits can be purchased.  This is certainly a fantastic option and would have been the most no-brainer, no-work way to achieve my goal.  However, the frugal side of me was curious to compare the overall price of the basic NaturoKit kit ($68) with the price of purchasing each of these items individually from my local Super Supplements store.  I printed of the list of items in the basic kit found here and took them with me to Supper Supplements.  I asked one of the employees to help me locate the items on my list and we totaled up the cost.  Because I was able to choose the brand and size of my items, my overall cost was a little less when purchased from Supper Supplements.  However, one thing to keep in mind when constructing your kit is that many items that you will purchase have a much longer shelf life than your typical pharmaceutical products so choosing the size of some of your products can often be more about expected use rather than expiration date. In addition to the items found in the basic kit, I also choose to add a few additional items that I felt would be useful: 100% Aloe Vera Gel (which truly is A-Mazing for treating burns), and Colloidal Silver Salve.  Over the last year I also have added: Arnica Salve, Bee Balm, Heal All, Throat Control Spray and Vapor Rub (all described below).
That said, in retrospect, I wish I would have purchased one of their online kits rather than from Super Supplements.  The reason is that the NaturoKits company was founded by two moms who are licensed naturopathic physicians and I believe strongly in supporting small companies (especially if they are mom owned).  Another perk to buying a kit from these moms is that their kits come with an easy-to-use instruction sheet which provides an easy to use cross reference between conditions and remedies is very helpful when you're in the thick of an emergency (and maybe not thinking & remembering so clearly) and also if you are new to natural remedies.  In addition, their kits are compactly and conveniently packaged so everything is ready to grab and go.
Okay so here is a photo of my kit one year ago (not all items described below are in the photo as I have added to it since then):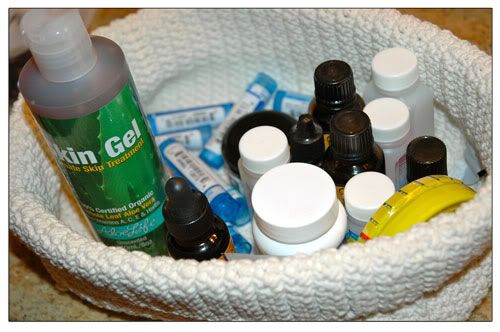 Here are the items in my kit along with details of what they can be used for.  Please note that the information provided below is what I have found online.  I would encourage you to do your own research when deciding which items would be right for your family and how they should be used.  The items below with an * were added within the last year.
Activated Charcoal
Natural remedy for intestinal upset and discomfort such as diarrhea, nausea, vomiting, indigestion, and gas. Acts to bind toxins and prevent their absorption.
Aloe Vera
Relief for all types of skin conditions including burns, non poisonous bug bites, abrasions, cuts, rashes (including diaper rash), muscle strain, hemorrhoids, acne, athletes foot, stretch marks, cold sores, gum disorders, vaginal dryness, post surgical, damaged & thinning hair, skin renewal, brown spots and other skin ailments.
Apis 30C
Homeopathic remedy for stings with swelling, redness and heat.
Arnica 30C
Homeopathic remedy for bruising and muscle soreness.
Arnica 6C
Homeopathic remedy for bruising and muscle soreness. More specific to injuries than the 30C version (i.e. headaches).
Arnica Salve*
Arnica Salve relieves pain associated with sprains, strains, pulled ligaments and muscles.  For best results, rub on bruises, bumps, and contusions immediately after injury. It works quickly and effectively to help reduce swelling, bruising, and muscle pain and is an excellent rub for body builders, construction workers, active children and tired mothers.
Bee Balm*
This solid lotion stick is perfect for dry skin therapy.  Bee Balm has a gentle lavender-honey scent, and is naturally preserved with rosemary extract.  The beeswax acts as a second skin, bringing restoration to deep cracks in heels, elbows, hands, and lips.  It works equally as well on paper cuts.
Borax 30C
Homeopathic remedy for mouth sores. Such as canker sores.
Calcarea Carbonica 30C
For cradle cap.
Calendula Succus
Herbal tincture
Actions: Has antibiotic, anti-fungus, and anti-inflammatory properties and is suggested for circulation, bruises, eczema, fungal infections, varicose veins, earaches, duodenal ulcers, cramps, gastrointestinal disorders, balancing menstrual cycle, fever, vaginal dryness due to menopause, and to facilitate healing after childbirth.
Uses: Cuts, abrasions and burns; bacterial infections of the skin; ulcerations and sores of the mouth, throat or skin; herpes; varicose veins and hemorrhoids; insect stings; bruises and black eye.
Dose: Take 30 to 40 drops, 2 to 5 times per day. As a dressing or wash use full-strength extract if well tolerated, or dilute with 2 to 3 parts water. Do not take internally while pregnant.
Cantharis 30C
Homeopathic remedy for burns and sunburn (especially 2nd or 3rd degree burns).  May help prevent or reduce blisters from forming.  Also useful for urinary tract infections or if there is a constant urge to urinate.
Colloidal Silver Salve
Good for cuts, scratches, burns, bug bites, use in place of Neosporin.
Emu Oil
Only a few drops are needed.  If it feels greasy, too much was used.  1 t. can be added in the bath water for all body treatment.  Anti-inflammatory, for the treatment of burns, wounds, bruises, for dry cracked heals, reducing car formation in healed burn wounds, pain reliever for bone, muscle and joint disorders. Skin and hair moisturizer (spread 2-6 drops into your palm according to the length of hair). Start at the top and work toward the scalp.  For scalp treatment, add a couple drops and massage scalp well and wait 10-30 min.  Rinse with mild shampoo.
Rescue Pastilles
Flower essence remedy for emotional stress and trauma – anxiety, irritability, fear, worry, grief, loss, and nervousness.
Heal All*
Can be used on cuts and abrasions (cover with a bandage if necessary!), stubborn splinters (to help them work their way out), insect bites and stings, Eczema and psoriasis, painful hemorrhoids, diaper rash and tender bottoms, dry, chapped skin, minor burns, cold sores, post-staph infection and skin surgery sites.
Hypericum Perforatum 30C
Homeopathic remedy for sharp, shooting nerve pain and injury to nerves such as crushed fingers or toes.
Ignatia Amara 30C
Homeopathic remedy primarily for grief and emotional shock but has also been used for moodiness, nausea, vomiting, sore throat, croup, piercing headaches, and insomnia.
Ledum Palustre 30C
Homeopathic remedy for puncture wounds including bug bites and stings as well as dental shots.  Faster healing of wounds, bruises and black eyes.  Can also be used for discoloration of skin and rashes as well as acne.
Throat Control Spray*
Throat Control Spray contains menthol, propolis, super concentrated extracts of thyme, ginger, chamomile, slippery elm, wild cherry bark, eucalyptus, glycerine, honey, pure grain alcohol, and water.
Vapor Decongestant Rub*
Uses body-friendly coconut and olive oils, along with beeswax to soothe raw noses and nourish skin.  Camphor, eucalyptus, wintergreen and menthol work together to bring cool, refreshing relief from congestion while killing unwanted bacteria.
As warped as it may sound, I was a little bit excited the following day when Ashlyn had a paper cut and I was able to administer some love in the form of Colloidal Silver Salve and a band-aid.  Since that time I have also utilized almost all the items in the kit at one time or another.  I will also note that the very first homeopathic remedy that I tried after becoming a mom was Borax 30C for the treatment of thrush in Ashlyn's mouth when she was a toddler.  If you have dealt with thrush, you know how difficult thrush can be to get rid of.  Hunter had it when he was still nursing and we visited the dr. on more than one occasion in an attempt to treat it.  It took weeks to heal and I was in so much personal pain each time we nursed (since we were passing it back and forth to each other) that I tried to wean him.  He was not interested in weaning however, so I pushed through the pain and eventually we beat the thrush.  Because of this prior experience, I had very low expectations for the effectiveness of the tiny white dissolvable round tablets found in my Borax 30C bottle.  However, after taking them for just a few days and seeing all her symptoms disappear, I was a believer.  We have continued to keep Borax 30C on hand for any mouth sores and I remain a believer in its effectiveness.  Please note that the homeopathic Borax 30C found at your health food store is NOT the same as the Borax you may purchase in the laundry soap issue at your grocery store and use as an ingredient for homemade cleaning solutions (such as homemade Comet)!
I would love to hear what natural remedies you have at home that you would recommend!
Disclaimer: The remedies contained in each NaturoKit® or the additional items mentioned above are intended to be used for acute self-limiting conditions. They are not intended to take the place of appropriate medical care from a qualified healthcare professional. You are responsible for getting help when a situation is beyond your level of training, comfort, and ability. In the case of an emergency, seek help immediately.  Please also note that links to the NaturoKit website do contain an affiliate link and if you purchase though the link I will receive a small compensation.  This post was originally written a year ago before any affiliate links to NaturoKit were added.  You can be sure that the information has not changed nor has my core reason for sharing them with you (I believe it is a great company with useful products).
Making my way though One Bite at a Time: 52 Projects for Making Life Simpler has been a fun challenge. This week I was determined to get back into the habit of meal planning (item #5). For me, meal planning has been an on and off again routine. Whenever I am in the routine I LOVE it.
Knowing what I am going to make ahead of time:
-Helps me to stratagize what we eat to make sure we are getting a good balance of nutrition.
-Allows me to plan a good mix of new recipes that I want to try with some old reliable favorites.
-Presents the opportunity to be more prepared to bless others in need with a meal.
-Avoids last minute 5:00 dinner stress or unnecessary eating out spending.
-Enables me to buy only what is needed and thus less food is wasted.
What typically goes wrong, and how I am trying to avoid it:
However, after a few weeks of regular planning, an inevitable a holiday or break in routine will bring an end to the plans and I somehow get sucked back into the "I don't know what we are having for dinner" stress.  I am not naive enough to think this won't happen again.  But I can try to anticipate the hangups that have caused problems in the past and seek to avoid them.
After reading Tsh's suggestion to plan two weeks ahead at a time I feel that is a good fit for me. In the past I have only planned one week in advance and I feel that left too much opportunity to drop the ball between weeks.  Planning at least two weeks out keeps me feeling more prepared and gives me a little more time to get the next two weeks done.  Plus, as long as I am taking the time to plan one week, doing two doesn't really take much more time.
I have at times gotten too excited to try new recipes and packed my schedule full of "newbies."  Making new recipes inevitably takes more time and has a higher "risk" factor involved (who will like it?).  To combat this, I am now asking the older two kids and my husband to each pick one homemade meal per week (i.e. if they want Mac & Cheese it is my rule that it will be a homemade version).  They choose what it is and I get to choose what night to make it.  This helps guarantee that everyone has at least one meal they can look forward to and only leaves me with a few nights to plan out myself.  This week Hunter' picked homemade pizza.  I enjoyed making the dough ahead of time and then allowing everyone to roll out their own pizza to bring over to the "topping bar" where they could choose their choice of sauce (we had spaghetti and Alfredo sauces–both bases to other recipes in the week) and toppings.  It was a hit and Hunter already plans to use it as his "pick" again soon.

Suggestions:
Plan to double your recipes as often as you can and either freeze the extra or have fun blessing others with a meal.
Try to be strategic about the meals you plan in the same week.  Doing so allows you to prepare less to be used for more and is also helpful for saving money.  For example, as I mentioned above, last week we had our family's favorite Alfredo recipe the night after we had homemade pizzas (allowing us to use the sauce for two meals).  I also used a large jar of Spaghetti sauce for my Baked Spaghetti, Chili and for our homemade pizza recipes.  My Costco rotisserie chicken was used for our lime tacos, white chili, pizza topping and to make several jars of Chicken broth.  If you find a great weekly combination of meals I encourage you to save it and reuse it.  Once you get a few great weeks you can rely on them as handy "stand by" weeks for times that you don't feel like coming up with something new.
If you don't already have a system in place for meal planning, I suggest considering a free service such as ZipList or Cozi or a paid and slightly more robust service such as Plan to Eat.  A while back I made a review video for Plan to Eat that you might enjoy.  In addition, if you sign up with Plan to Eat, please "friend me" (my user account is "mom4life") which will allow both of us to automatically see each other's recipe box (and save those we like to our own).
What do you do for meal planning?
Do you have a system that is working well for you or no system at all?  I would love to hear your thoughts or see a link to some of your favorite recipes!
By Ashley Devonish | Category: Fit 4 Life, Healthy Living | Posted Tuesday, January 3, 2012
Welcome to the New Year mamas!  Did you make any goals for 2012?
I am writing this post on the evening of January 1 from bed as I munch on a few pieces of Christmas chocolate. The rest of our super excessive amount of chocolate dipped Oreo balls, dipped Ritz crackers with peanut butter filling, molasses crinkle cookies, Ghirardelli chocolate squares, yada, yada, yada has just been sent to the freezer where it will require more advanced planning to enjoy.  I am ready to cleanse out my system. The sugar has been threatening to have it's way with my immune system and I will not go down without a fight!
Juice it up!
A while back a friend of mine told me about a documentary she watched called "Fat, Sick and Nearly Dead."
A few months ago, our family was hit with sickness.  Everyone except Trent had a runny nose, which then led to ear infections.  And although Trent was spared ear pain, he had his own share of problems because he was fighting pneumonia.  We were a pretty sad bunch.  While vegetating on the couch one afternoon during this time of sickness, we saw an infomercial for a juicer.
We didn't have to be convinced that the benefits to juicing are extensive, but I will highlight some of the major benefits here: (more…)