By Heather Ledeboer | Category: It Worked 4 Me | Posted Tuesday, January 22, 2013
Christmas may be over but it is not the only time of year that we are in need of a ready-to-give-gift.  With young children in toe, having a handful of gifts ready makes perfect sense.  This simple solution comes from 4 Nannies and I hope you will find it to be an inspirational help to ease the stress of needing to find a last minute gift!
It's time for the kids to go to another birthday party and, unfortunately, you haven't bought a gift yet.  There's barely enough time to get to the party as it is and now you have to figure out how to make time for a stop at the store and figure out something to buy for the birthday child.  Everyone is in a rush and stressed out.  Does this situation sound familiar? All of this stress can be avoided by having a gift cupboard; here's how to create one.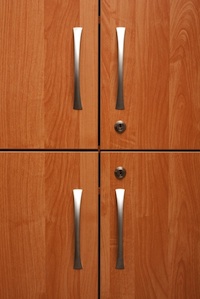 Find a spot to store everything
This may sound like the most difficult part, and it might be, but here are some suggestions:  you can use a small linen closet, a hope chest at the end of your bed, a couple of boxes on the top shelf in your closet, under bed storage, or buy either a new or used cupboard.  If you buy a used cupboard you can clean it up and paint it or stain it to match your home and it will blend right in.
Buying the gifts
Getting the gifts to put in the gift cupboard is a gradual process.  You'll want to get into the habit of checking the clearance area everywhere you go and watching the sale ads.  After Christmas sales are also a really good time to pick up some good buys at a fraction of the normal cost.
You should be on the lookout for games and toys that fall into the price range that you would normally spend for a birthday party.  Maybe you find a bunch of board games on clearance, or several popular action figures.  Make sure to pick up a mix of both boy gifts and girl gifts to give yourself a good variety.  A few unisex gifts wouldn't hurt, just in case you run out of one or the other.
This gift cupboard doesn't have to be just for children's birthday parties – it can be for adults too.  When you go someplace for dinner and you'd like to take a hostess gift, it needs to be in your gift cupboard so you don't have to stress about it.  Put a few bottles of wine in different varieties in there, some wine charms, coasters and other small gifts that you think your friends would like.  It's also smart to include some small gifts that you can exchange with friends and acquaintances on the spur of the moment.  These come in especially handy during the holiday season.  A friend may unexpectedly drop by with a small gift, and it's nice to have something to give them in return.  Another good idea is to keep a few gift cards on hand for various places around town.
Stocking the gift wrap
While it's not mandatory to keep your gift wrapping stuff in this cupboard, it might be a good idea to do so since you will be using them in conjunction with these items.
Include gift bags in various sizes and colors, white tissue paper (will work with any color bag), rolls of gift wrap for different occasions, wine bottle sleeves, bubble wrap, Styrofoam peanuts and plenty of tape.  A few small boxes might be a good idea too so that the odd shaped items can go into a box for wrapping.
Accessories to go on a wrapped present or gift bag are what make people gasp in surprise and tell you how lovely the gift wrapping is.  This part takes no talent or craftiness, so don't panic if you are not crafty.  Include plenty of ribbon, both regular and curling.  Buy a few pine picks for the holidays.  These can easily be added to the top of a gift with some tape.  Wrap the ribbon around the gift and tie a simple bow.  Tuck a pick or some sort of gift dangle into the bow and you are done.  You will look like a rock star and it was all stress free because of your gift cupboard.
Cards
Someday, when you have some time on your hands between appointments or just a free day to go shopping, you can take your time and stand and read through some greeting cards.  Choose a variety of cards, such as thank you, sympathy, male birthday, female birthday, congratulations, etc.  Keep these cards in your gift cupboard and you won't have to worry if you remember someone's birthday at the last minute or you hear about someone having a death in the family.  You will be able to go to the gift cupboard and grab a card and send it on the same day without rushing to the store.
Next time you are out shopping and you see a sale, keep in mind that this is how the gift cupboard starts.  You can pick up two gifts instead of just one and stash the other one away for another child some other time.  Happy gifting!
These are a few of my un-favorite things:
-mindless repetitive tasks
-heading to town in the morning without snacks or a lunch for the kids
As our family has grown, packing an on-the-go lunch has become more time consuming.  It recently occurred to me that I could circumvent some of the preparation time with a little advanced planning.  I am certainly not the first to think of this idea (Smuckers Uncrustables anyone?).  But it was a lightbulb moment for me.
Perhaps you have been doing this yourself for eons, but just in case you are like me, I thought I would share this simple tip for making sure you always have a sandwich to grab on the go.
Here's how:
-I decided that if I was going to do this, I might as well make up several sandwiches at once.  I use one loaf of bread.
-I laid out the bread and slathered them with peanut butter and jam.  Putting peanut butter on every slice of bread with the jam layered on top helps prevent the sandwiches from getting soggy.
-I assembled the sandwiches and separated them with a paper towel (an alternative thrifty option that I thought of was to use the thin paper squares that sperate out the Tillamook sliced cheddar cheese that we purchase at Costco).  The reason for putting a layer in between each sandwich is to make it easy to separate them after they have frozen.  If you use plastic sandwich baggies you could simply bag them instead.  However, I use reusable sandwich bags so it wasn't a good option for me to bag them at this step.
-I put the prepared sandwiches right back in the bag that the bread came in and secured it at the top and placed it in the freezer.
-Now I had a handful of sandwiches ready to go at a moments notice.  I found that they thaw quickly enough that I could pull one out of the freezer in the morning and they would be ready to eat by lunch.  The kids have not mentioned noticing any difference in taste, however, I have noticed that they will dry out faster so I need to be sure they are eaten the day I thaw them to prevent this.
How about you?  What kinds of snacks have you found work well to prepare ahead of time?  
Here is a gross blog post topic only to possibly be out done by my last post.  Honestly people I am just trying to weed out readers here and so only the true die hard wanting-to-remove-warts readers remain.
Still readin'?  Awesome, lets do this.
You will need:
-a wart
-a roll of duck tape
Tear a strip of duck tape that is wide and long enough to fully cover both the wart and the surrounding skin.  Apply the tape directly over the wart.  Allow the tape to remain in place until it begins to come off on its own.  When this happens, replace with a new strip of tape.  Repeat the process faithfully.  Over time your wart will start to get "angry" as the adhesive within the tape signals to your body to fight against it and will begin to fight against the wart.  Eventually your body will reject the wart entirely and it will practically pop off your skin (as shown in the photo below).  When this happens it is time to celebrate, you won!
I was tempted to title this post: "How to get rid of a wart naturally" but in good conscience I can't claim that, I have no idea what is in duck tape.  I did look it up in the EWG database but as expected my search yielded no results.  My second option was "How to easily get rid of a wart" but I can't claim that either.  It took several weeks for Ashlyn's to fall off and a few months for Hunter's, that doesn't fall under my list of "easy."  What I can say is that it is cheep, non invasive and virtually pain free.
We learned about this method of wart removal after Ashlyn discovered a wart on the bottom of her foot and I (not knowing what to do about) it did nothing (this by the way is neither an effective or recommended course of action).  Over time, I realized that this approach was backfiring and her wart was growing. I asked her pediatrician for advice.  I was pleasantly surprised when he suggested that we try duck tape rather than the wart removal stuff sold in stores, freezing or cutting it out.  It took persistance but in the end our efforts were rewarded!
Lucky for us Hunter later got two warts on his toes so we got to test this method out a second time.  It took longer (partially because the tape occasionally would dry out his toe so much in the creese that it would crack and bleed so we would have to rest it for a few days by not using tape) but as of last week he is now wart free!
Apparently the fun isn't quite over yet however as Quinten now has one of his own. . . Maybe I should shift my focus now from wart removal to wart prevention!
If you don't happen to have any duck tape on hand or if you want to try an alternative method, my good friend Kira swears by apple cider vinegar as a wart remover.
I'd love to know what has or hasn't worked for you in the area of wart removal!
When Melody approached the topic of how being a mother has changed her home (it is now a mess) and asked for tips and feedback from other moms in her post titled, "I used to have a clean house", it started a conversation on our facebook page about what we do in our home to involve our kids in the process of keeping our house enjoyably neat.  I would like to share our "system" with you and invite you to offer comments, feedback or questions about what you do (or don't do) or plan to do with your kids to encourage them to be active participants in the upkeep of your home.
We have a list:
Perhaps some of you will recall the blog post I wrote in January of 2011 called "Let's organize our day: the evening routine."  In it, I mentioned a list that i would set out for my two oldest children (who were 5 and 7 at the time) outlining what needed to be done in the morning before they went to school.
We have a problem:
This method worked fairly well for my 7 year old son who is systematic in nature and a strong reader.  However, over time the intent of the list (to help them manage their own tasks) began to fail and simply became my checklist for nagging: "Hunter, have you brushed your teeth yet?"  "Hunter, please stay focused"  "Hunter, which task are you working on right now?"
We adjusted our plan:
Around that time I listened to an online podcast by The Power of Moms by Richard and Linda Eyre (the authors of The Entitlement Trap) which encouraged parents to shift their focus away from allowances (simply giving kids money) and toward a family system of "choosing, earning and ownership".  One of the ideas presented in the podcast included a weekly responsibility chart which the child fills out and turns in at the end of the week.  Each responsibly had a monetary value attached allowing the child the opportunity to earn their own money for the "extra" items that child wished to purchase.
I saw that there was an opportunity to improve upon our current system using the ideas provided by Richard and Linda.  I set to work revamping and creating a responsibility chart for our two oldest children.  Each list was unique to the child for which is was made and includes both morning and afternoon responsibilities.  Although many tasks were the same (they each needed to brush their teeth for instance), some differed based on ability and maturity.  We did choose however to make the lists fairly equal in the overal number of tasks as well as the payout provided for completing the tasks.  Since the kids have more free time durring the summer, I have tweaked the lists during the non-school months to include an extra "weekly" job each day (such as the one Hunter is doing in the photo below-cleaning the guest bathroom sink and mirror).
Admittedly it can take longer to teach a child how to do a task that is quick for an adult.  But I truly believe the importance of not only the task learned but the responsibility gained is worth it.  Over time, if that child is encouraged (and not belittled) for the tasks they are learning to master, they will soon be able to do them as well as you.  Here is a tip I have found to work well for me: When Hunter completes a job such as washing the mirror I go in the bathroom and look it over with him.  I ask, "Hunter, if you were an employer and you just hired someone to wash this mirror for you, would you feel his job is complete or did he miss any areas?"  Presenting this question allows him to look at his own work objectively and without feeling like I am pointing out errors (he is critiquing himself).
We have been using our revised list plan for a few months now and overall I am very happy with how it is working.  Hunter has now reached a point in which he begins his lists unprompted (most of the time) and knows exactly what is expected of him often without even referencing his list.  Ashlyn still needs encouragement to get started but she now is able to read everything on her list on her own (using pictures to represent the tasks in addition to words can help a lot in this area if you have a young child).  I have found that using extra motivation often works well too (such as: we can leave for our play date today once your morning responsibilities are completed OR our family movie night will begin once you both have your evening responsibilities finished).
I'd love to hear from you: Do you use a system like this or something totally different for your kids? What about when you were growing up, what did your parents do with you in this area?  Do you have any questions or tips?
Back in my teaching days (I used to teach second grade) I stumbled upon a fun picture book called "Fortunately."
The main character is taken on a wild adventure filled with fortune and misfortune.  It goes something like this:
Fortunately, Ned was invited to a surprise party.
Unfortunately, the party was a thousand miles away.
Fortunately, a friend loaned Ned an airplane.
Unfortunately, the motor exploded.
Fortunately, there was a parachute in the airplane.
Unfortunately, there was a hole in the parachute.
It's a cute story, but the deeper lesson is one that I carried with me.  What deeper lesson you ask?  That there is always something to be thankful for!  In many ways this has become a mantra in my home and is something I seek to remind myself and my children of when we become frustrated, sad or disappointed.
Our "fortunately/unfortunately game" is one that we play from time to time when we feel down as a way of helping us to remember to look for the blessings.
For example:
-If my glass gallon milk jar just shattered all over my countertop (true story), I might say, "Unfortunately, I just destroyed that glass jar which was super helpful at storing our milk.  Fortunately, we are blessed enough to be able to buy another jar and no one got hurt by the glass!"
-If my attempting to potty train 3 year old just happened to pee all over his chair (true story), I might say, "Unfortunately, Quinten just made a huge mess of pee for me to clean up.  Fortunately, he didn't also poop!"
I find that I need to be willing to lead by example with this game.  Once my kids hear me being willing to express not only my true disappointment, but my effort to look for the good in the situation, they become more comfortable as I encourage them to do the same in those tender, teachable moments.
Since introducing this game to our kids a few years ago, they have shared their own version of fortunately/unfortunately with me, unprompted, on many occasions.  Two years ago when our oldest son (who is now nine) broke his arm, he declared between his sobs, "I'm really glad that in Heaven there is no pain!" Not too long after that he stated, "I am really glad I didn't break either of my feet!" Later it was, "I'm really glad we came to the doctor, there are so many interesting things here!" and my personal favorite was "Pretty lucky day!" which he said after he got a free pair of comfortable pants from the nurses.  More recently Hunter shared his disappointment with the way his video game ended but reminded himself how fortunate it was that he even got to play.  It blesses my heart each time I hear my children look for the good while struggling with a disappointment.
What do you think? Is this something that would work in your home?
If you missed it previously, you might also enjoy reading about our "opposite game" that we use from time to time as a fun way to get things done!